Un par de voluntarios avanzan a montaxe do set dende as 8:00 na Radio Costeira. Baixo un sol radiante, o resto de voluntarios chegan a partir das 10:00 para proseguir na montaxe da segunda picnic sesión do ano. Foi unha mágoa ter que cancelar a anterior Picnic por mor da previsión metereolóxica desfavorable no mes de marzo. Tal vez por iso, desta volta temos máis gañas de sacar adiante este evento.
Conforme avanzan as Picnic Sesións, Ímos a mellor na organización, así como ímos gañando en experiencia con cada evento, as tarefas e labouras de coordinación van mellorando no facer da equipa. A repercusión e a boa acollida das Picnic Sesións entre o público fan que as cousas muden cada vez a mellor. Un enorme sentimento de gratitude e orgullo nos invade ás persoas que enxendramos este proxecto.
LUCIA GQ. Obradoiro de Collage.
Media hora antes de comezar o evento, xa tiñamos longas ringleiras de persoas para inscribirse no taller de Lucía GQ de Collage para a cativada. Un éxito rotundo. Lucía contaxia o seu sorriso, a súa luz e o seu bo facer ós participantes do seu obradoiro. Estamos desexando argallar cousas novas con ela. É un auténtico pracer traballar con xente que fai as cousas dende o corazón.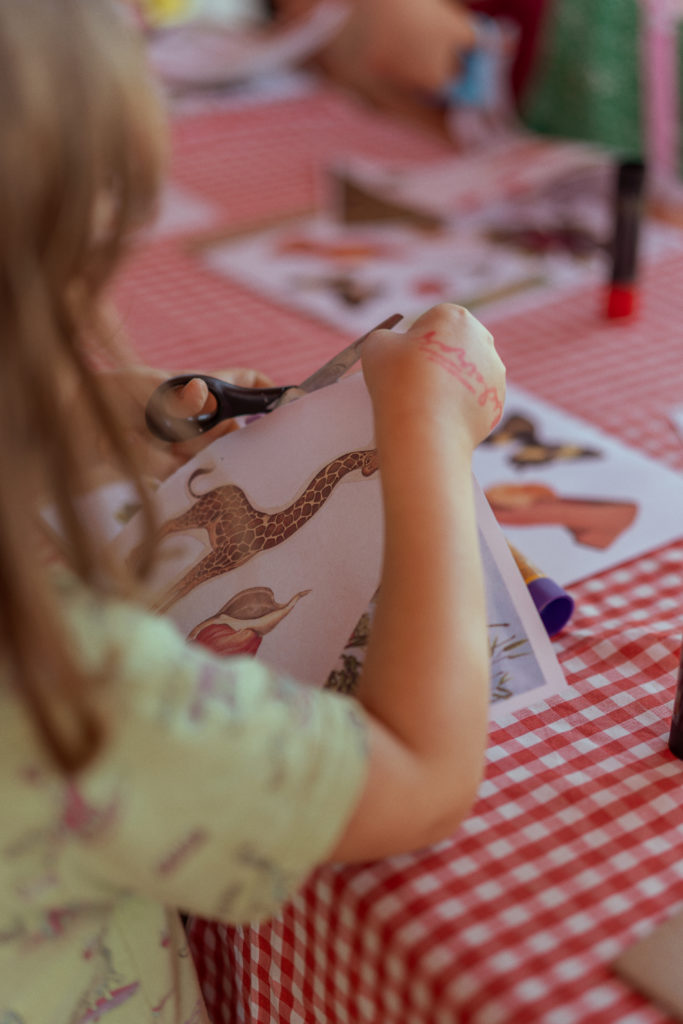 CONCERTO DE VISIONS OF JONANNA
Ás 13:30h a Radio Costeira de Saiáns era un fervedoiro de xente. A afluencia deste segundo evento do ano duplicouse con respecto a anterior Picnic, que xa de por si fora un éxito para nós.
Un mar de parasois cubren o verde da Costeira para asistir ao concertazo de VISiONS OF JOHANNA, que puxeron a banda sonora folk-rock para un Picnic campestre primaveral e familiar.
Ambientazo espectacular, que nos amosa que hai xente que xa ten marcada na súa axenda persoal, a cita mensual coas nosas Picnic.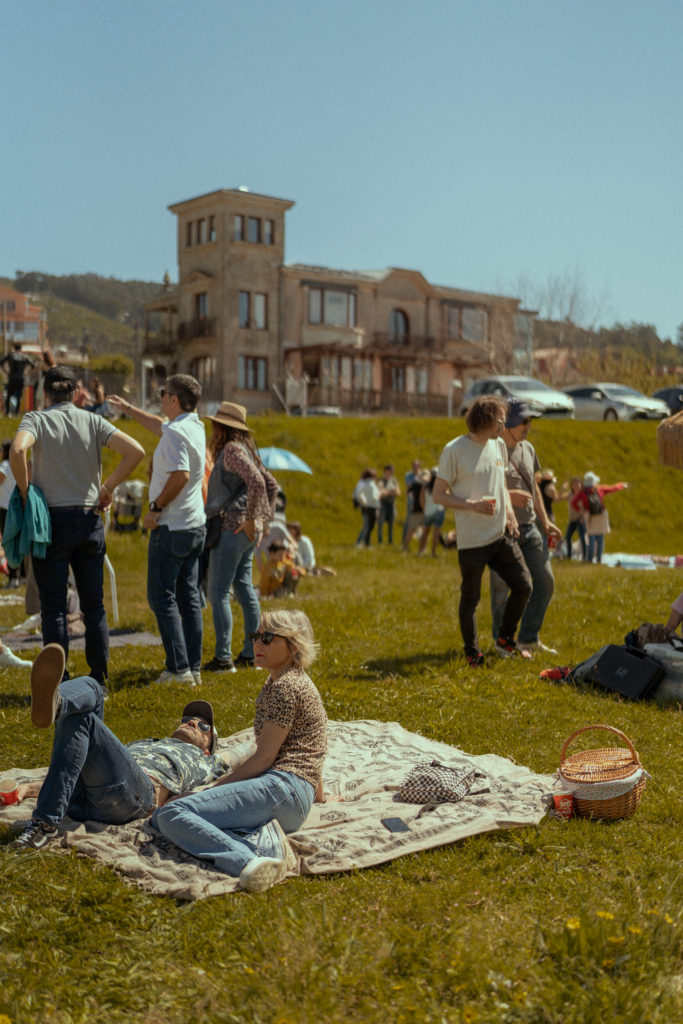 RINGLEIRAS INFINITAS
A equipa víuse desbordada. Apesares de termos duplicado o pedido de produtos e servizos, tras do éxito e crecemento do evento de Febreiro…isto non foi dabondo ..vimos mermadas as existencias e houbemos de pedir axuda tanto a Luís , rexente do bar do pobo Alegría del Bollo, como a Andrés de Cervexa A BANDA De Nigrán, para reforzar os suministros e sacarmos ó evento adiante. Eternamente agradecidos, Grazas pola vosa axuda!!
Solventado éste atranco, poidemos dar servizo ao público asistente…malia con todo, non fomos quen de evitar as longas esperas e as ringleiras interminables, tanto no stand de venta de tíckets como nas foodtrucks. MIL DESCULPAS E MOITAS GRAZAS POLA VOSA PACIENCIA.
Estamos abrumados co crecemento das Picnic e sentímonos moi reconfortados ó ver que a idea que tiveramos aló por xuño do 2021, foi calando na audiencia e as longas horas de moito traballo previo, esforzo e ilusión, están dando os seus froitos. Proba disto é que a nosa criatura vai medrando a pasos de xigante.
Millóns de grazas as persoas que nos intres de máis presión en Barra e en Tíckets, non dubidaron en "vestirse o mono de traballo" e botarnos unha man ( Mariana e César, entre outras persoas…)
PICADA FRANK DREBINS DJS e Concerto THE YOUNGERS
Bonita paisaxe a da Radio Costeira chea de familias, parasois, manteis picnic, pompas de xabón, sorrisos, xogos entre a cativada que se amigaron nesta intensa xornada primaveral…..Natureza, cultura e moita comunidade.
O dúo de DJs, que xa forma parte da familia Picnic, non defraudou co seu repertorio repleto de grandes clásicos. Pronto voltarán a facer picada con nós, pero á seguinte sesión vai ser en vinilo, a súa zona de confort.
THE YOUNGERS puxeron o broche dourado a éste Picnic dominical cunha emotiva homenaxe a Neil Young. O Público moi relaxado e atento, sentado sobre a herba da Radio de Saiáns, rodeaba aos músicos, tarareando a maior parte do repertorio dos Youngers. Unha moi bonita estampa que nalgún intre lembrou aos concertos campestres do primeiro woodstoock.
Conversas que mudan o mundo na tarde do domingo….
Xente nova trenzando as súas cabeleiras…
A Cativada xogando libre, sen preocupacións, sen perigo algún….
Grupos de persoas masaxeándose…
Unha mini dose de utopía interxeneracional onde cadaquén desfruta ao seu xeito do morno serán musical en Saiáns.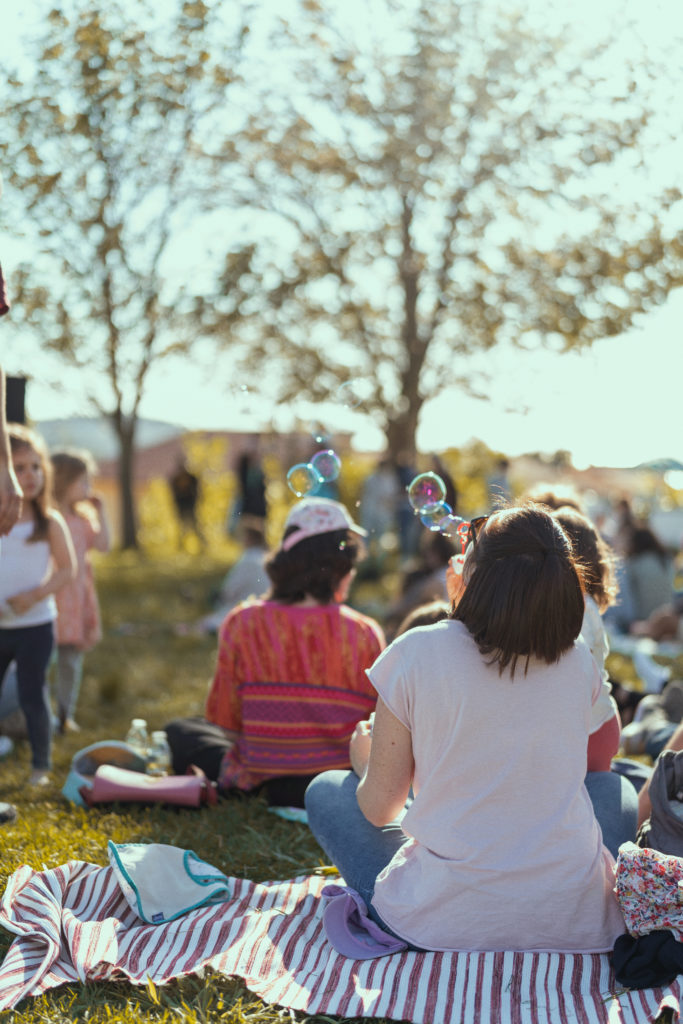 Qué lindo!
O que un día bosquexáramos nas nosas mentes, fíxose realidade.
SAIÁNS énchese de vida, música e cor, a lo menos unha vez ó mes, nun marco incomparable
cun ambiente que non pode ser mellor. Un soño.
AOS PROBLEMAS, SOLUCIÓNS!
O sistema de funcionamento das Picnic sesións xa está mudando de cara o próximo evento do 14 maio, para solventar os atrancos de longas ringleiras e esperas.
Para isto trocamos o noso sistema de cobro para axilizar os pagos. Estará todo dixitalizado e os tíckets imprimiránse no momento. Un pequeno gran paso para profesionalizar o noso proxecto.
Ademáis, no stand de merchandaising, poremos á vosa disposición un código QR para a autoxestión dos tickets.
Esperamos que este novo plantexamento, sexa un antes e un despois no noso sistema de traballo.
Por outra banda, sumaremos máis postos de comida, cinco en total, para diversificar a oferta gastronómica e agradar aos padáis máis esixentes
Éstas e outras novidades vos agardan o vindeiro 14 de maio na Radio Costeira de Saiáns.
A equipa traballa arreo en preproducción para que poidades desfrutar deste proxecto
organizado por LIDEIRAS asociación cultural sen ánimo de lucro.
Feito con agarimo e xeito por veciños de Saiáns e a contorna.
GRAZAS A TOD@S @S QUE O FACEDES POSIBLE!!.